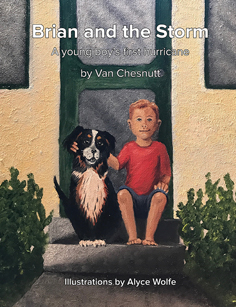 Lexile® Reading measure 650L
A second book, Brian in the Everglades: A young boy's fishing adventure, is in work.
There is also a third book in work, Bobby the Bear: A young bear learns to fish.
When eight year old Brian returns from school one day he is surprised to find his father at home. He is told that a big storm is coming and they need to prepare and that they will likely lose power. Brian and his dog, Penny, are not concerned, they have been through storms before. Or so they think.
Brian helps his dad put up storm shutters and even Penny seems on edge as they move into the evening and the skies darken. As the storm arrives, events unfold that have Brian and his family unsettled.
Eventually the storm passes and it is time for cleanup and to be thankful for the way things turned out.
The book is illustrated through the art of Alyce Wolfe of Seattle, as a collection of oil paintings.
The book is used in some South Florida elementry schools as part of their classroom reading materials.
The book is available on Amazon and other retailers.
Reviews/Comments
This story is great! I bet kids will love it! I love it (because I love weather).
MS-Pembroke Pines, FL. age 8
This little book with it's beautiful illustrations, shares the journey of Brian and his dog Penny through his first hurricane. His family supports him through his fears and helps him to show care for those around him. The values this story supports are timeless...caring for those in need. I have purchased several books and given them to my local schools and library.
NW-Key Largo, FL.
The book, "Brian and the Storm," tells the story of eight-year-old Brian riding out his first hurricane with his parents and neighbors. Mr. Chesnutt does an admirable job of showing us the experience through Brian's eyes. The illustrations are also excellent, age-appropriate, and help young readers better appreciate the story. I would definitely recommend this book to kids from seven to twelve.
Dave
Wonderful story with great illustrations.
SCW
Great book.
SW
We got this book for my son, wasn't sure if he would sit for it yet. He absolutely loved the story. ❤
CP